So, you're ready to join the illustrious boat owners club? You can already picture yourself pulling out of the marina, enjoying a nice breeze, and sipping cocktails on the bow with friends and family. You can't wait to get out of the no wake zone and into the open water. A dolphin splashes in the distance and the sandbar is calling your name. But before all of this happens, you need to figure out how to pay for it! This is where a boat loan comes in. If you're ready to start the boat buying process, learn how we do boat loans at Trident Funding. We're here to ensure you have all the information to make the application process seamless. 
A boat loan is a type of specialty financing used to fund the purchase of a boat. Similar to an auto loan, a boat loan is also an installment loan. Monthly payments of principal and interest are paid throughout the loan term. Interest rates, terms, loan amounts, and fees vary based on the lender and the loan product. 
Trident Funding offers new and used boat loans, as well as boat refinancing. You can apply online with our streamlined loan application. Boat loan amounts range from $25,000 to $2 million, perfect for your first time boat, or your dream mega yacht. Now that you know what a boat loan is and where to apply for one, let's dive into how to get the process started. 
Steps to Apply for a Boat Loan
1. Know What You Can Afford 
Before you start shopping for boats online, checking out dealers, boat shows, and scheduling sea trials, you need to know how much you can afford. You don't want to have your heart set on a 50-foot Azimut, and realize you can only afford a small fishing vessel. Instead, know upfront what price range to look in. Check out Trident's boat loan calculator to check how much you can afford based on your desired monthly payment or total loan amount.
If you know you don't want to spend more than $500 a month, then you can enter that as your desired monthly payment. You can also play around with the loan term in years or months if you know how long you want to finance the boat. The calculator figures out your monthly payment or total loan amount, total principal paid and total interest paid for the length of the boat loan. For example, if you input a monthly payment of $500 and loan term of 20 years with a 6% interest rate, you'll see a total loan amount of approximately $200,000.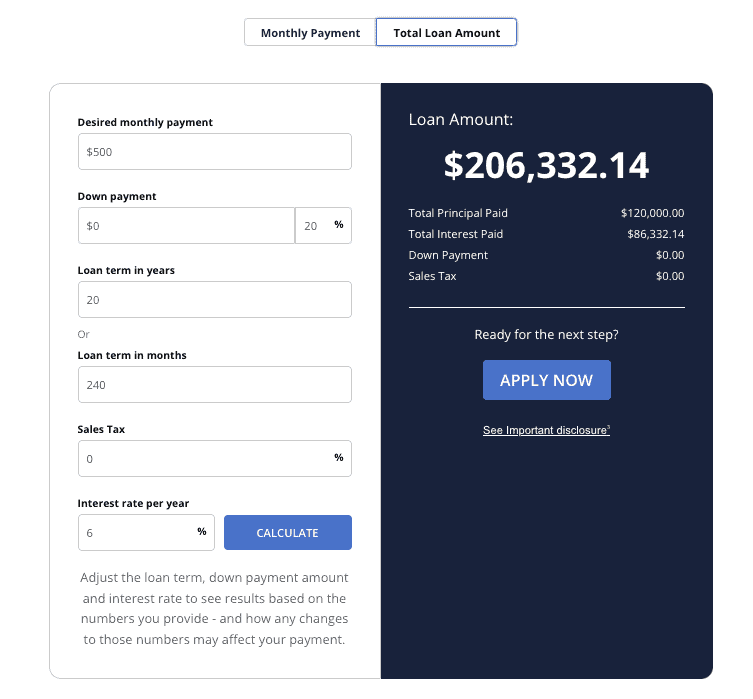 Keep in mind that these are only estimations. The monthly payment won't include boat insurance or any additional costs such as marina and docking fees, tow services, or maintenance and repairs.
2. Set a Budget
Now that you've used our boat loan calculator, you can set a budget for your purchase. It's always wise to err on the side of caution, and don't buy anything at the top of your budget. Just because you can technically afford a $250,000 boat, doesn't necessarily mean you should spend that much. Instead, check out boats a bit under the top of your budget and see what you like and who has the best deals.
You want to be able to comfortably afford the monthly payment even if you aren't using the boat much, go through a financial hardship, or the insurance premium increases. You know your own financial situation better than anyone else. You know what loan amount will be most comfortable for you while still getting you into a great watercraft. 
3. Check Boat Loan Rates
Next you can check loan rates. Boat loan rates affect your monthly payments but they also affect the total cost of the loan. As of August 2023, the best boat loan rates start at 8.12%. Once you've  decided on a monthly payment you're comfortable with, review current boat loan rates. This rate estimator tool is updated daily and provides current boat rates. You can input your credit score range, the loan amount, the year of the boat, and the type of loan you will be getting. There are different options for new boats, used boats, and refinancing boats. 
The estimator figures out your monthly payment, interest rate and loan terms based on the information you input. A high credit score and liquid funds are the keys to securing boat loans. Remember interest rates vary and these are only estimations.
4. Choose a Boat
Choosing a boat is the fun part! You know what you can afford to spend and can start doing more than window shopping. You can begin by using a boat buyer's guide to learn how to buy a boat. Most people check out boats online on websites like Boat Trader or YachtWorld first and then look at the ones they like in person. The benefit of online browsing is that you can read the descriptions, browse pictures, check out videos, and even go on virtual tours all from the comfort of your home or office. You can also do some research to understand which boat is right for you. Once you narrow down your selection online, you can contact the seller and schedule an appointment to see the boat. 
If the boat is on or near the water, you may get to try it out on a test drive which in the boating world is known as a sea trial. This will give you a feel for how the boat rides, verify how many hours are on it, and look at its overall condition. Once you find a boat you like, it's time to fill out the loan application.
5. Fill out the Loan Application
Answer some questions online about the boat you want to buy, your credit score, and financial history, and then submit the loan application. Trident Funding looks at much more than just your credit score. Our trained team of boat loan specialists evaluate your entire financial profile so they can match you with the best lender for your unique needs. We will help you sail through the process of applying for a boat loan.

6. Have Documents Handy
During the loan process, you're going to need to have some specific documents handy. It saves time if you have them ready ahead of time. Each lender may have slightly different requests, but in general you will need:
Identification: Drivers license and your social security number

Proof of address: Usually for the last two to three years 

Lists of assets and debts: Include bank accounts, brokerage accounts, and monthly housing payments, etc. 

Bank statements

Proof of employment

Tax returns or profit and loss statement 
In addition to verifying the above mentioned documents, the lender will get your consent to check your credit score. Lenders will also analyze your debt-to-income ratio and check for collections or past due accounts. 
A down payment may also be required to purchase the boat. The amount will depend on your credit score, the type of loan, and the loan amount. Typical down payments are 10 to 20 percent of the purchase price. 
The lender may require a marine survey and a boat appraisal. These inspections will verify the condition of the boat, if any repairs need to be made, and its current value. They will also check its seaworthiness and its engine and mechanical systems. 
7. Purchase Boat Insurance
Although boat insurance isn't mandatory in all states, it is recommended, and your lender will typically require it. An 'all risk' policy is the most comprehensive policy and covers the boat against all losses except specific exclusions. These exclusions may be things like wear and tear, gradual deterioration, or damage from participating in illegal activities. 
You can check with your home or auto insurer and see if they offer boat insurance. If they do, you may get a discount for having multiple policies called a bundle. If not, you can find specialty insurance companies online, and your lender may also be able to recommend a company. 
8. Decide Where to House your Boat 
If you live on the water or have access to a boat dock, then you can keep your boat at home. But for most people, you will need to know where to store your boat. If it's a small boat, you may be able to keep it on a trailer in your garage or in your driveway. However, a larger boat will need to stay at the marina. 
You can typically rent dry or wet storage at a local marina. Dry storage means that the boat is lifted in and out of the water every time you use it. When you're not using it, the boat will be stored on a boat rack out of the water. Wet slip storage means that your boat will be stored in the water and may be moored with an anchor or may be tied up. There are pros and cons to each storage method. You can find out more by calling a local marina and discussing pricing and how often you think you will use the boat. 
9. Buy Your Boat and Enjoy!
Once you've turned in all your loan documents, have a credit approval, and you have accepted the loan terms and estimated monthly payment, it's time to purchase your boat. You will send the lender your proof of insurance and the details to where the boat is going to be kept and will pay any applicable downpayment, lender fees, taxes, and registration. Then it's time to get on the water and celebrate!
How to Apply for a Boat Loan: The Wrap Up 
Buying a boat is a big expense, but it can create everlasting happy memories. The feeling of being out on the water is hard to replicate. If you're ready to experience it for yourself, consider a boat loan. Check out the boat loan calculator to see how much you can afford, get your documents in order, and apply for your boat online.