How We Do Boat Loans
With nearly 30 years of experience, Trident Funding is the most trusted partner for all your boat financing needs.
Trident Funding offers a wide variety of boat loan rates for boat and yacht buyers. We offer boat lending options for new and used boat purchases as well as boat refinancing. Our dedicated team of sales representatives guarantees professionalism and competitive rates. With access to specialized programs and experienced lenders, we listen to your needs and find the right solution to finance your boat.
Whether you're looking for a small runabout, a sailing vessel, a sportfish or the finest megayacht, we have the right loan for you. We specialize in boats, that's all we do! If you're purchasing a new boat, used boat, classic boat, or project boat, we'll help you find the best boat loan lender to meet your needs.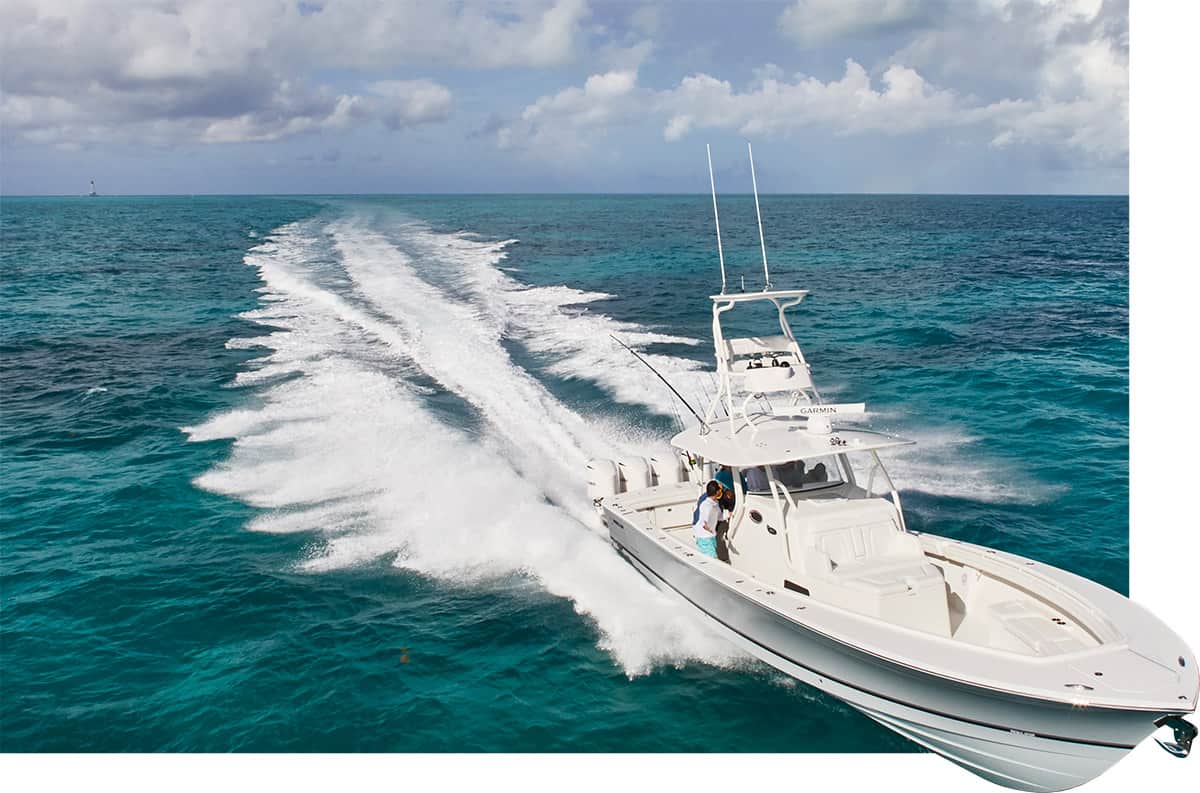 "Trident Funding has worked with more than 50 banks and financial institutions over the years to provide the most competitive rates, terms, and the most knowledgeable marine loan specialists when you work with us," said Mark Breeden, Trident Funding president and CEO.
Trident Funding operates six local branches throughout the country with small teams of professionals who know all about the marine industry, boat loans, marine surveys, Coast Guard requirements, and more. We offer financing for different types of boats including small fishing vessels, jet boats, sailing boats, and luxurious yachts. You can finance a new or used boat and you can even refinance your current boat loan.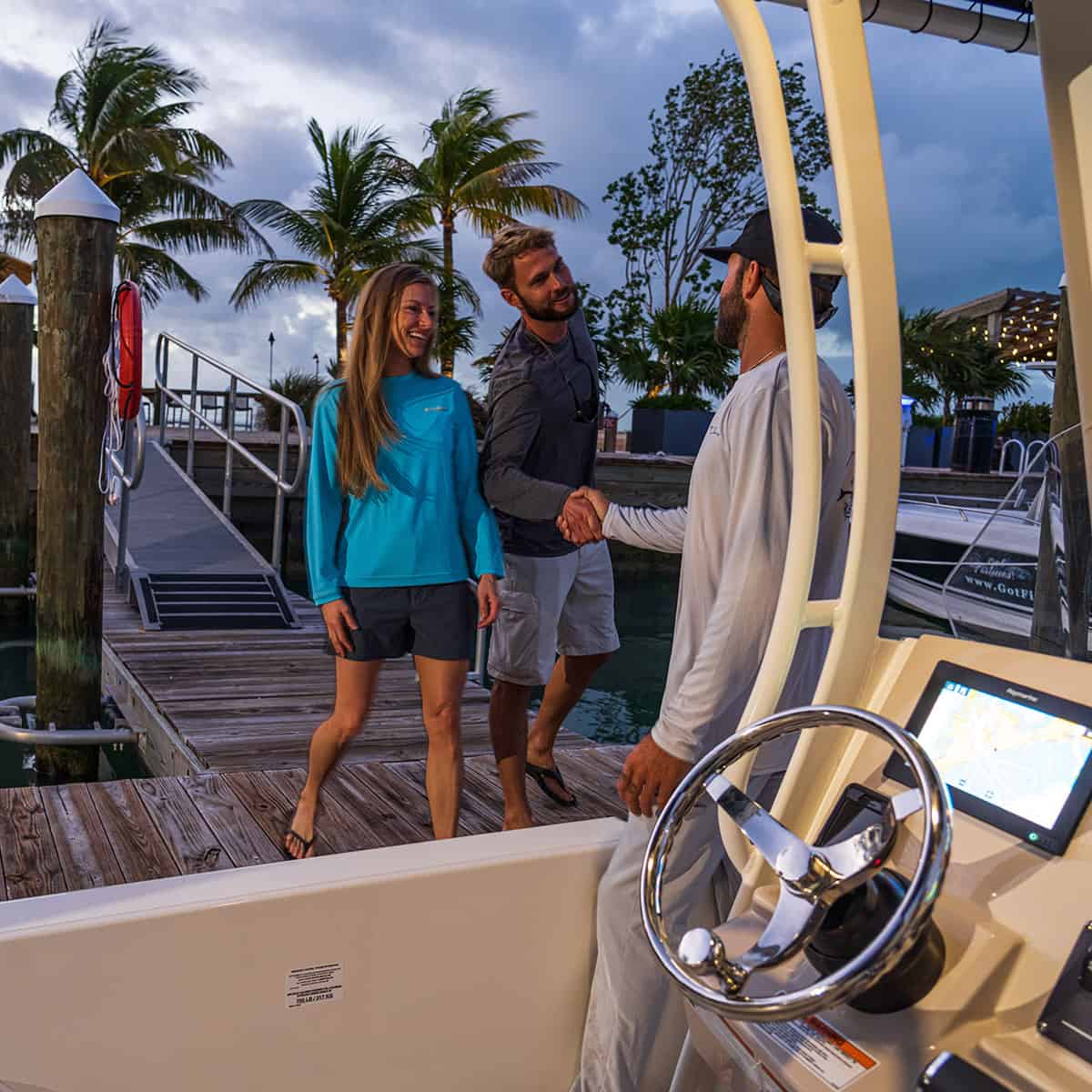 Let Us Handle the Heavy Lifting
We help with everything from application submission through closing.
Our experienced team of finance professionals will coordinate all elements of closing, including state title, coast guard documentation, insurance, and settlement services. When you apply for a boat loan with Trident Funding, we examine your unique situation to determine which of our trusted boat lending partners can provide the best boat interest rate and term for your loan.
We work with the marine industry's largest transactional database for brokerage, YachtCloser.com, which allows us to instantly communicate and provide necessary documents to simplify your closing.
Use our boat loan calculator to check your monthly payments or calculate your total loan amount. Trident Funding's boat loan program depends on factors such as loan amount, down payment, vessel type and age, interest rates, loan term and credit qualifications.
Our Tools Make It Easy
Trident Funding's boat loan program depends on factors such as loan amount, down payment, vessel type and age, interest rates, loan term and credit qualifications.
Standard Fixed Rates
Short-Term Fixed Rate Programs
60-Day Deferred Payment
Competitive Boat Loan Interest Rates
Minimum Credit Score 680+
Amortization from 7 to 20 years
Boat Loan Amounts from $25,000 to $2,000,000
New Boat Loans
Used Boat Loans
Boat Refinancing
Special Purpose Entity (LLC or Trust) Ownership Allowed*
Recreational & Limited Charter Options Available*
Dealer Purchase, Private Party, and Refinance Loans Available
Some programs may not be available in all states. Please contact us with your specific questions and for current rate information. Let us take the guesswork out of finding the right lender, and help you sail through the process of financing a boat!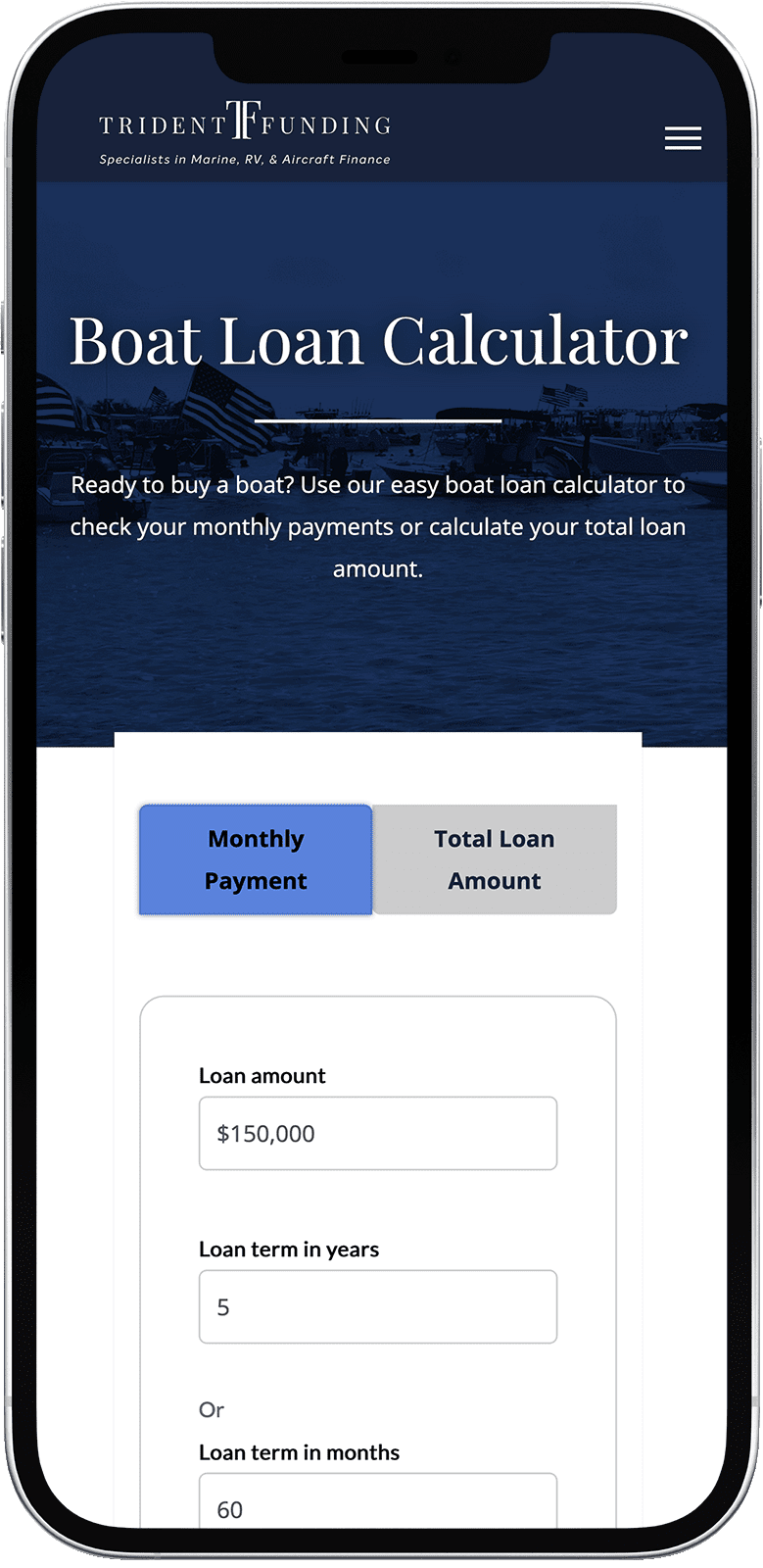 Frequently Asked Questions
About Boat Loans