AREA BOAT LOAN SALES MANAGER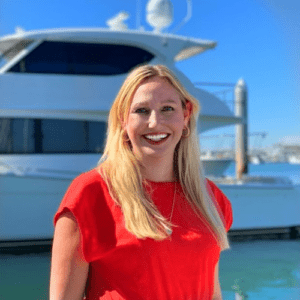 Mindy Benard is a California native. As a child her family activities revolved around the water. Her love for the ocean came from spending endless weekends out in the water.
Her love for lakes came from many houseboat family vacations which included waterskiing and knee boarding. As an adult, Mindy continues to revolve her life and her daughter's life with fun-filled days and nights involving the water. Her daughter has been sailing since she was three years old. They are honored to be members of The American Legion Yacht Club Post 291. Mindy is proud to be on the board for AYSO Region 97 Soccer and to be immersed in the community.
Mindy comes to Trident with many years of experience in the marine finance industry and cannot wait to be a part of your boat owning journey!
Whether you are buying a Convertible, Wakeboard boat, Trawler, or Center Console, Mindy has the boat lending partners and experience to secure you the best possible financing terms.
Apply for a boat loan today to work with Mindy!
ESTIMATE YOUR BOAT LOAN RATE
With nearly 30 years of experience, Trident Funding is the leader in the boat and yacht financing industry. We offer the best boat loan rates nationwide.
Are you buying a new or used boat or do you want to refinance a current purchase?
Use our quick boat loan calculator to estimate your monthly payments and annual rate.
The purchase of a new boat or yacht is supposed to be a pleasurable experience, and it's our job to make the financing portion of the transaction as smooth as possible.
We are here to answer your questions and find you the best possible boat interest rates and terms for your unique situation.
Apply for a boat loan in minutes!